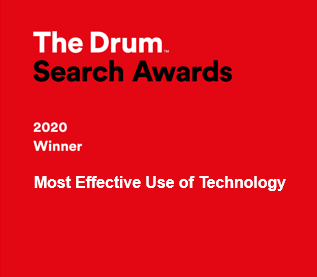 Drum Search Awards Winner SEO & PPC – Most Effective Use of Technology
The Drum Search Awards and award ceremonies in general are online now and may not have the same feel, but that won't stop the Seamless Search team from celebrating our latest award win.
We were delighted to announce back in May 2020 on the NMPI blog that at this year's Drum Search Awards, our work with M&S won the award for SEO & PPC – Most Effective Use of Technology, for our proprietary technology Seamless Search.
Working 
with 
Marks 
and 
Spencer, 
we 
developed 
a 
machine 
learning 
platform 
that 
allowed 
the 
retail 
giant 
to 
holistically 
manage 
its 
paid 
and 
organic
search.
This was not a simple task or process. Organic search results are generally encrypted by the Google algorithms, and the sheer volume of data to process makes it nigh on impossible for humans to run and optimise and analyse search activity holistically. But not for our machine.

A 
big 
congratulations 
to 
the 
team 
that 
has 
worked 
on 
this 
project, 
and 
we
hope
to 
report 
more 
award 
wins 
in 
the 
weeks 
to 
come.
Read more about the category and details on the
Drum Awards 
. We came up against some very strong and distinguished competition and at that point in May 2020 Seamless Search was only available as a back end solution, with no self-service front end.
Read up on our MarTech Breakthrough Awards win.